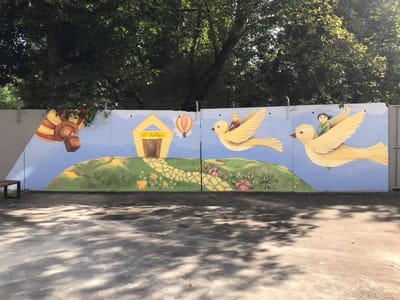 Benefits

For sponsors
Personalized and traceable charity for real children and their families
Support of Ukrainian identity formation, eradicating prior russification of society, thus shaping next generations
Continuous engagement in promotional and marketing ULAS campaign
Personal input into development of the Pro-Ukrainian school core
For kids
Ukrainian-oriented education for kids with primary immersion into Ukrainian language, tradition–s and culture
Tailored approach by psychologists, teachers and tutors to every child
Unveiling working opportunities for parents due to full-time presence of kids at school
Our key objective

The war in Ukraine deprives thousands of children of access to proper in-school education. Solely in Kyiv and regions, around 50 schools were damaged or destroyed, at times with the whole population of towns being obliged to become internally displaced persons. These students must study offline while their parents make a living.
Action Plan
ULAS 2022-2023 school year starts in September 2022
+70 spots for internally displaced kids: 20 at preschool, 30 at primary, and20 spots at secondary school
Accommodation provided by request
Join our efforts in rebuilding Ukraine and become a part of funraising compaign for fund the study of Ukrainian kids deprived of the highest value – their childhood. May the light of knowledge vanquish the shadow of the deadliest war against humanity!